Shine on you crazy diamond
Staff member
ODJT Supporter
Sep 26, 2011
26,424
41,814
Not sure why and don't know for how long .. this is normally a $450 unit. Well rated middle of the road direct-drive turntable for home use. Has a built-in phono preamp as well as a USB output if you want to rip LPs. It's manual, so no automatic start or stop. Also has removable cables .. both power and audio. Just bought one .. will probably replace the included cartridge with a new Shure M97XE I have.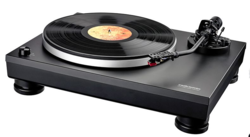 Buy Audio-Technica Consumer AT-LP5 Direct-Drive Turntable (USB & Analog) featuring J-Shaped Tone Arm, USB Output to Mac & Windows Computers, Rugged Construction, Built-in Phono Preamp, Phono or Line Output, Direct-Drive Motor, 33 and 45 RPM Speeds, Includes AT95Ex Cartridge and Stylus, Includes...
www.bhphotovideo.com
Reviews:
I had planned on refurbing a vintage Yamaha PX-3 tangential tonearm unit, but have had a problem finding the correct belts (the tonearm is belt driven) and not sure there isn't any other issues (other issues people have found include sensing mechanisms inside).
So I may sell it on eBay, though it's a pretty unit ...