I would like to have a podium style DJ system, but it needs to fit MY needs. It's gotta be something that's easy to transport and setup. I don't see anything out there I can buy that fits the bill for me, so building one myself seems like the best option. Why a podium style system? I think it looks clean and puts the DJ closer to the audience... less of a barrier than my current systems, with which I use a small Floating Facade. While the facade does a great job of hiding unsightly cables and giving my systems a clean look, it's not as slick as a podium system (if it's done right).
So I currently have two systems (one large and one small). I like them both...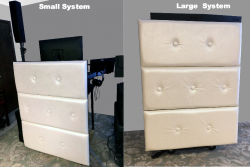 ... They are transportable and have a lot of built-in contingencies. But with redundancy, often comes complexity. I'd like to have a Podium system with all the same features and contingencies, but my initial Podium System concept was pretty large. It was designed to have dual All-In-Once (AIO) computers and room underneath for transporting my RCF EVOX-8's...
... Ultimately, I'd like to have that system. First, however, I think it might make sense to build a smaller version so I can test out my design concepts...
.... While only 6 inches narrower than my initial concept, it's still 10 inches wider than either of my current systems (without the facade), and 4 inches wider than the width of my current Floating Facade. It has 4U of rack space under the top, and plenty of space in the upper section for pretty much any controller I'd like use. It has just a single (19.5 inch) AIO computer, but could accommodate a second one at a later date. I have a Pioneer DDJ-T1 and a Dell AIO PC I can use initially, and I don't want to cannibalize either of my current systems. The color of the concept is simply to differentiate it from the background, but I don't know what the ultimate color will be.
The thing is; at the moment, I'm still undecided about the All-In-One computers. I still think dual nano computers with an ultra-widescreen monitor might be a better choice. Whichever choice I make, though, either option will work with my podium design. I DO have some limitations to consider... the minivan has openings on the side and in the back for loading gear. The height of the rear opening is 39 inches, but the side opening is 42 inches high. The rear opening is considerably wider than the side door opening. Either are wide enough to accommodate the current design.
Next steps... Find a fabricator. I want an aluminum frame, which I can't build myself. I do think I can cover the exterior (and interior) of the frame once it's complete. No clue what it will cost... need to get a few estimates from some of the local fabricators. I'm not even sure I can find one willing to take on a small project like mine. If not... well I guess I'll deal with that if it happens. So that's my plan... for now. It's almost winter, so it's a great time to build something fun.
Last edited: